Hey guys!
Just wanted to stop by and share this clip.
These two have been inseparable for the last 107 years..
I collect & restore LEVIN instruments and the pair in this video have a special story that I wanted to tell as well as play some music on them. They were both bought new in 1907 by the parents of the nice little old lady I got them from back in 1999.
The guitars are still together!!
And the "nicer" one, the model 18, was restored by me right away but the plainer model # 4 has been waiting until now..
But here it is, now producing some fine bottleneck slide tones for the years to come!! That sure feels great!
I'm proud to be the keeper for a number of years and then pass them on..
On July 27th 1900, Herman Carlson Levin began building his wonderful stringed instruments in a small workshop in Gothenburg, Sweden. My great passion is collecting these instruments that, to my eyes (and ears), were some of the finest guitars ever built..
Certainly, many people today know of Levin for its fine old arch-top guitars or its plainer and not quite so fine-sounding beginners' instruments from the 50s and 60s.
But long before this, Levin was top of it's class in Europe and other parts of the world. It already achieved a high-point as an instrument maker at the 1907 World's Fair in Madrid, where it won the gold medal for the best guitar. Remember, this was in the Spanish guitar builders' home territory. Not only that, Levin was awarded the exhibition's Grand Prix!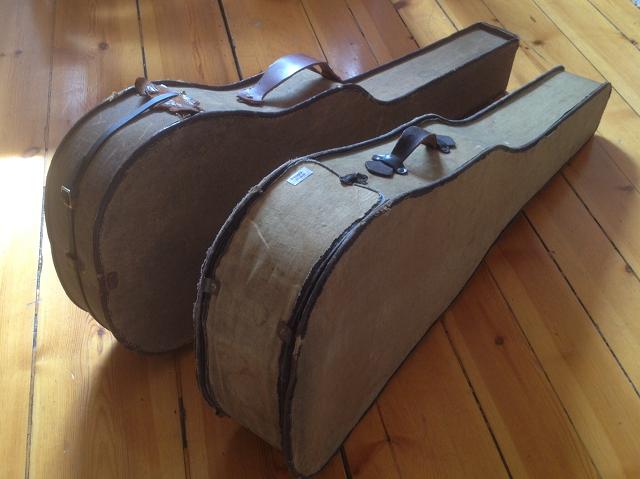 And two old cases as well..